To help you find your way around the web we've selected a number of web sites we think you may find useful. If you think we've missed a site off our list then please contact us.
We hope you enjoy these sites as much as we do! At the moment there aren't many sites - but keep returning as we'll be adding new ones all of the time.
Online-Engineer (www.online-engineer.co.uk)
The Online-Engineer site is a new database specific to the UK manufacturing sector. At the site you can find detailed information on academic resources, companies, institutions and other organisations.
Added 15 January 1998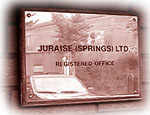 © 1997, 1998 Juraise (Springs) Ltd.
Sugarbrook Mill, Buntsford Hill, Stoke Pound, Bromsgrove, Worcs, B60 3AR, UK.