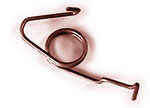 Our product range is available in a wide variety of materials including Carbon Spring steel, stainless steel, phosphor bronze, brass, copper, mild steel, oil tempered and various other wires. Below you will find a brief description of each of the types of products we are able to produce either as one off quantities or in volumes of millions.
Compression Springs
At present we produce a variety of springs ranging in wire diameter of 0.2 mm to 5 mm with a maximum wire length of 17,000 mm. We are able to produce compressing springs with a minimum coil inside diameter of 1.15 mm and a maximum coil outside diameter of 76 mm.
Torsion Springs
We are capable of producing various types of torsion springs, including single and double torsion springs. Our machinery enables us to use a variety of wire sizes with diameters measuring from 0.25 mm to 3 mm.

Wire Shapes and Formations
Our CNC machines are able to produce almost all wire shapes from 0.25 mm to 3 mm. In mild steel we are able to produce with wire diameters up to 6 mm.

Metal Pressings
We have a press section which enables us to produce pressings utilising a maximum machine force of up to 10 tonnes.

Straight Lengths
We are able to automatically produce straight lengths, from 5 mm up to 4 metres in length, using a variety of materials with diameters of 0.6 mm to 3 mm. With mild steel, copper and phosphorous bronze we can cut up to 6 mm diameter wire.