First of all thank you for your interest - whether you wish to comment on the site, need more information or would like a competitive quote we have tried to make the process as quick and easy as possible. If you have a better idea we would be delighted to hear your feedback.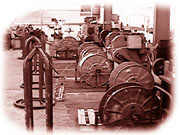 There are a variety of reasons why you may want to contact us so we've prepared a few forms to make it easy - simply select the appropriate form from the list below. If we haven't covered your requirement then please send us an e-mail. Our full address details and are also included for your convenience. Thank you.
What do you want to do?
Request more information about Juraise.

Provide feedback on the Juraise web site.

Receive a quote.
Registered Office
Juraise (Springs) Ltd
Sugarbrook Mill, Buntsford Hill, Stoke Pound, Bromsgrove, Worcs, B60 3AR, UK.

Tel: +44 (01527) 878811 Fax: +44 (01527) 877537

E-mail: adrian@juraise.com

Web: http://juraise.com